About Good Oak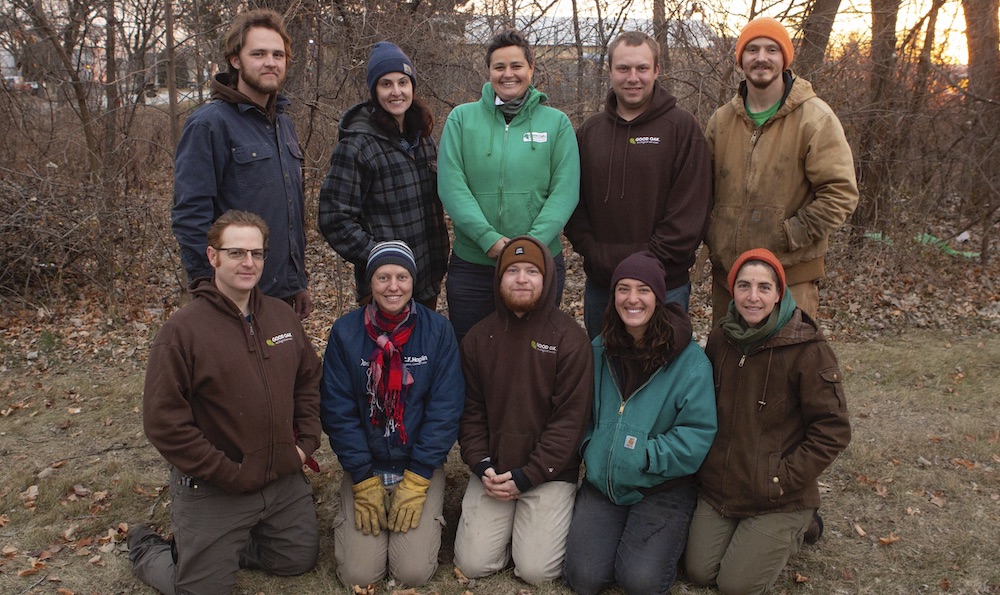 We took the name "Good Oak" from a chapter in Aldo Leopold's landmark work A Sand County Almanac. In this chapter Leopold narrates the sawing of a dead oak tree for the firewood it will provide to heat his now famous 'shack'. As they saw through each annual growth ring in the massive trunk, he chronicles various historic and conservation events during the year each ring represents.
At Good Oak, our mission is to "To restore ecological health and reestablish native plants to our landscape for the benefit of wildlife and a more sustainable future for humanity." We have been strongly influenced by Aldo Leopold and his "Land Ethic". So we chose our company name to honor what we feel is the most influential work of conservation literature of the 20th century. We strive to live up to Leopold's ideals and work for positive change.
We are proud members of Dane Buy Local, The Prairie Enthusiasts, Wild Ones, Green Masters Program, Invasive Plants Association of Wisconsin (IPAW), Midwest Ecological Landscaping Association (MELA), Upper Sugar River Watershed Association, Wisconsin Wetlands Association, and the Wisconsin Prescribed Fire Council. We work in cooperation with the Greater Madison Healthy Lawn Team.
Staff:
Frank Hassler
Ecologist / CEO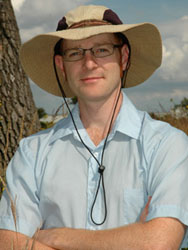 Frank has over fifteen years of volunteer and professional experience in the fields of ecology and botany. He has earned a B.S. in Ecology from the University of Illinois and an M.S. in Forestry at Northern Arizona University. His passion for restoring natural areas was sparked on a tour of a local prairie in his very first week in college. He was amazed by the beauty and uniqueness of dozens of plants, a whole ecosystem in fact, that he had never seen before. From that moment on Frank has worked towards the preservation, restoration and re-creation of natural areas. As his knowledge of conservation issues grew, he realized that if we are going to maintain the diversity of our wildlife over time that we are going to have go beyond simply conserving our natural areas and also reintegrate native plants and animals into our human landscapes.
Frank can identify over 1,000 species of wild plants. His botanical knowledge gives him a unique understanding of natural communities as well as knowing which plants will thrive and look good in your landscape. His experience in natural areas management ranges from prescribed burning to weed management to prairie installation. He also has experience with erosion control methods and recreational trail construction. His life-long dedication to the environment and social causes bleeds through into the way he lives his life and manages his business. Frank is also an avid cyclist, so don't be surprised if he shows up to a site visit on his bicycle.
Athena Salzer
Sustainable Landscaping Manager
Athena is a Wisconsin native with a Bachelors of Science degree in Forest Ecosystem Restoration & Management and a minor in Conservation Biology earned at the University of Wisconsin– Stevens Point. While studying at UWSP, she was an active leader and volunteer through the student chapter of the Society for Ecological Restoration. Through this organization, she helped lead major efforts to restore habitat for the federally endangered karner blue butterfly and managed a research crew surveying the endangered butterflies and their native populations. Her academic coursework has also given her extensive training with plant identification and hands on experience with field work in many native ecotypes. Athena's passion for the natural world keeps her motivated and drives her ambition to help restore and maintain sustainable landscapes. This girl has a natural green thumb and lives to work with plants.
Amy Jo Dusick
Sustainable Landscaping Manager
Amy Jo grew up in the northern coulees of the Driftless Area, within the Lower Chippewa River watershed. Following participation in what she thought would be a casual volunteer vacation at a local state park, she soon realized her interests in natural resource management and sustainable systems. She went on to acquire a Master's degree in Environment and Resources at the UW-Madison Nelson Institute, looking at the recovery of native soil microbial communities upon the removal of invasive plant populations. Amy Jo also works as a weekend naturalist at the UW-Arboretum and is an ardent advocate for community stewardship and citizen participation as a means to further advance the science of ecology. She currently resides in Madison and can often be seen meandering, seemingly without course, in search of fungi.
Robert A Schubert
Ecological Restoration Manager
Robert grew up in southeast Michigan and graduated from the University of Michigan. He has a great passion for botany and conducted botanical inventories and rare plant monitoring for organizations including the Michigan Natural Features Inventory, The City of Ann Arbor, The Huron River Watershed Council, The Nature Conservancy, Michigan Nature Association, and the Minnesota DNR. Robert has conducted over 100 prescribed fire operations with multiple organizations ranging from small native plant gardens to interagency operations burning thousands of acres.
Keith Phelps
Senior Technician
Keith hails from Minnesota and owes much of his inspiration to pursue ecology to the boreal forests of the Boundary Waters Wilderness, where he led backpacking and canoeing trips for a boy's camp. After graduating UW Madison in Environmental Studies and History, Keith worked as an intern with The Prairie Enthusiasts and was exposed to the tallgrass prairie ecosystem where he worked to eradicate wild parsnip, sweet clover and other invasives while collecting and sowing native plant seeds from remnant sites. In his spare time, Keith enjoys illustrating, writing, playing guitar and appreciating the last few intact historic ecological communities. His favorite prairie plant to spot is the prairie turnip and he hopes to one day explore in depth the Appalachian temperate rainforests and visit the majesty of Patagonia.
Scott Fuchs
Technician
Scott was exposed to the outdoors from an early age; through fishing outings with his father (an avid fly-fisherman), summer vacations to the family cabin in Missouri's Mark Twain National Forest, and catching frogs and tadpoles in the then undeveloped subdivision adjacent to his childhood home. Scott's interest in ecology and botany inspired him obtain his B.S. in biology from the University of Wisconsin Whitewater. He spent countless hours exploring the Kettle Moraine State Forest and State Natural Areas near Whitewater throughout his undergraduate studies. He was first exposed to the world of restoration ecology through volunteer activities with The Prairie Enthusiasts and the Wisconsin DNR. On the weekends you can find him exploring southern Wisconsin's remaining natural communities, identifying native plants and imagining what a pre-settlement Wisconsin looked like.
Mariah Fehringer
Technician
Mariah is a wilderness loving Yooper that studied Biology at the University of Wisconsin Superior. She has worked with three conservation districts where she fought to eradicate garlic mustard, Japanese barberry, buckthorn, and many other invasive species. Apart from killing invasive species Mariah enjoys biking, reading, and bird watching.
Isaac Bailey
Technician
Isaac grew up in Waukesha, Wisconsin, and was first exposed to ecological restoration in high school while volunteering with prairie restoration projects throughout the Kettle Moraine area. He went on to graduate from the University of Wisconsin-Madison, where he majored in Conservation Biology and Environmental Studies. During his studies, Isaac interned with the Prairie Enthusiasts, where he helped control invasive species and collect and spread the seeds of native plants. Working with the Prairie Enthusiasts and witnessing the positive impact dedicated citizens could have on native ecosystems inspired Isaac to pursue a career in the ecological restoration field. When he is not playing cello or roasting and brewing coffee, you can often find him roaming around state natural areas trying to find and identify interesting flora and fauna.
Evan Nelson
Technician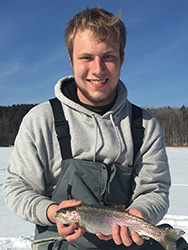 Evan grew up in Hingham, a small town outside of Sheboygan. He graduated from the University of Minnesota Crookston with a degree in Natural Resources - Water Resource Management. He was first exposed to restoration while collecting native seed on the Glacial Ridge National Wildlife Refuge near Crookston and was further exposed through many classes. While attending school in Crookston, he worked for a local landscaping company and developed an interest in that as well. He hopes to combine these two skills to pursue a career in ecological restoration. When not at work, Evan enjoys hunting, fishing, and kayaking.
Natalie Dutack
Administrative Assistant
Natalie has spent the last decade immersed in the woodlands, prairies, and dunes of northern Illinois and southern Wisconsin. Leading with a love of plants she has a background in grant administration, natural areas management, and a passion for permaculture. Currently completing her Masters at UW Madison, she spends her free time running, keeping bees, and camping with her family.
Partners:
Allison Eyring-Green
Eyring-Green Designs
Allison earned a B.A. in Landscape Architecture from the University of Illinois and has over 15 years of experience in landscape design, plant propagation and landscape installation. Though she has had extensive training in traditional landscape design, she has worked almost exclusively with native plants. This combination of formal training and native species savvy allows her to design attractive landscapes with materials few other designers are familiar with. In her spare time Allison volunteers at the UW Arboretum teaching about landscape design and aiding in their natural landscaping efforts.
Joy first became interested in plants while working at a retail greenhouse in high school; this led her to earn a Bachelor of Science degree in Horticulture from the University of Wisconsin- Madison. She has continued to work in the horticulture field in Madison for over 10 years now, primarily designing, installing and maintaining residential landscapes. She has great enthusiasm for using native plants and sustainable, environmentally sound landscaping practices. In her free time, she enjoys re-landscaping her own yard, spending time outdoors, hiking, skiing, running, and cooking. Joy operates her own landscaping company, but also works with us regularly to provide landscaping services for our clients.
Ray Murphy
Vanaheim Gardens
Ray has been working in the fields of ecological restoration and landscaping for over 20 years. He helps us out in the winter with our invasive brush clearing projects. During the growing season we call on his expertise in stonework whenever we have a walkway or retention wall project to work on. The team-up always yields impressive results.